A Timeless Tale of Family Bonds: The Godfather & The Borgias
Posted by : Sophie Swerts Knudsen
18 December 2021
A few days ago, I decided to watch 'the Godfather' again; an epic movie based on the bestseller written by Mario Puzo. I had two reasons for rewatching the first part. First of all, there is no doubt it is simply one of the best movies ever made. And secondly, somewhere in the first years of my research on the Borgias, I found out that Mario Puzo, the author of the bestseller, had found his inspiration for 'the Godfather' in the lives of the Borgias. Eager to find out, I took pen and paper, and watched 'the Godfather I' with a different pair of eyes.
Puzo went as far as calling the Borgias, 'the first true crime family'. For those of you who have been following my blogs, you probably now know that I disagree entirely with that statement. Unfortunately, Puzo's book has, like Victor Hugo's 'Lucrezia Borgia' contributed tremendously to the vilification and the Black Legend of the Borgias. But just for a moment, let us push that negative aspect aside and delve a bit deeper into the world that Mario Puzo and Francis Ford Coppola created on the basis of the members of our favorite family.
Like Rodrigo Borgia, Spaniard and foreigner in Italy, also Vito Corleone ended up in a foreign country where he needed to settle and raise his family. The Borgias created their power center in Rome, more specifically in luxurious villas and apartments in and around the Vatican, whereas the Corleone family settled in New York in a giant old villa where dark wooden walls, brown furniture, big leather armchairs with golden studs and blinded windows dominate; a décor reminiscent of the Renaissance house with wooden ceilings and walls, dark wooden tables and chairs with leather seats. If it weren't for the cars, modern clothes and haircuts in the film, we might as well be in Italy in the 1500s. Also the Beverly Hills house of film producer Jack Woltz (who finds the horse head in his bed) seems to have been carefully picked to remind us of old style Italian villas. With crickets chirping in the background, the camera shows us the luxuriousness and gorgeous façade of the house (see picture below) and while we listen to Jack's terrifying screams, I can't shake the feeling that we are in the hills of Renaissance Rome.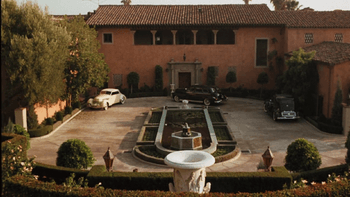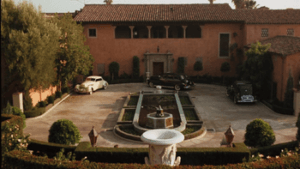 Another setting which catapulted me back to historical events in the Borgias' lives was the gathering of the 'bosses' in a room in New York where Don Vito Corleone urged the heads of the families to make peace with each other after his oldest son Santino is brutally murdered. To me, this scene resembles the consistory where Pope Alexander VI, remorseful and deeply sad, wants to trade seven papacies for the life of his son Juan who has been butchered and thrown in the Tiber like dirt. Rodrigo reassures a long list of people that he does not blame them for the murder. Instead, he wants to organize a significant reformation of the Church. Modern day historians believe that at the time of the consistory, Rodrigo already knew the identity of the culprit and that he had every intention on striking back in a vendetta. This would take place years later through his son Cesare who 'eliminates' many of the Roman barons. Like Rodrigo, Vito Corleone is humble at the gathering he organized, and urges to stop the war between the families. Similar to Cesare Borgia, Michael Corleone, will, however, retaliate, kill all the bosses (read barons), and become the one and only power.
Even though many journalists and movie reviewers wrote that the similarities between the Borgia family and the Corleone were quite superficial, I strongly believe that in creating the characters for his movie, Mario was seriously inspired by the various members of the Borgia family.
I somehow imagine that Puzo thought of Rodrigo's intelligence, his political astuteness and razor-sharp instinct when he created the character of Vito Corleone. There is however, a big difference in personality between the two family fathers. Rodrigo Borgia was a true carpe diem type of man, who loved beauty, women, dancing and life, whereas Vito Corleone was happily married and glad to live in the background. Rodrigo Borgia, on the other hand, loved to be in the foreground and was a rather theatrical man.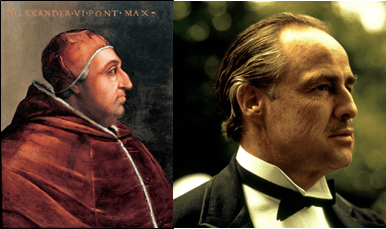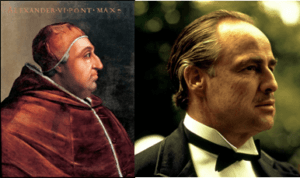 Santino Corleone's behavior is entirely based on Juan Borgia's personality. He is a handsome yet violent, promiscuous and rather unintelligent man who abuses his position to retaliate immediately and therefore creates many enemies. Because Santino fails to think before he acts, he dies a violent death, very much like Juan Borgia who, despite the fact that he has many enemies in Rome, defies fate and fearlessly rides alone through the dangerous city at night, and ends up stabbed to death in the Tiber.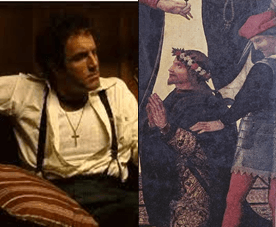 There is no doubt that Michael Corleone's role is based on Cesare's personality. As soon as Michael takes over the family and business, he reveals himself as a true leader. He keeps his cool even in the direst circumstances, he is extremely intelligent, he shows no emotions and shares no secrets with anyone. This is quite similar to Cesare Borgia's behavior observed by Machiavelli. Calculated and ruthless, Michael deals with the families' enemies and fights for his goal to become increasingly more powerful. He is always a few steps ahead of everyone else; very much like Cesare Borgia in terms of how he dealt with his enemies.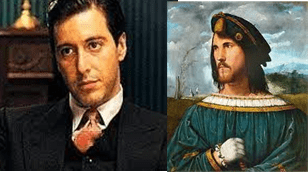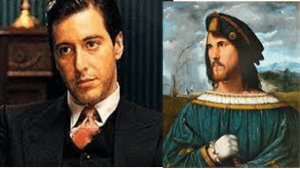 And then there is beautiful Conny Corleone who portrays Lucrezia. She marries Carlo Rizzi, a useless, abusive man who secretly betrays the Corleone family (which leads to Santino's murder). Here, we notice similar behavior to Lucrezia's first husband, Giovanni Sforza, who spied for Ludovico Sforza while he was on Pope Alexander VI's payroll. Sforza was a coward and unreliable, much like Rizzi. Moreover, Sforza spread the rumor that he could steer Lucrezia every way he wanted. Both Alexander and Cesare considered Giovanni an incapable zero who had become entirely superfluous. Some historians believe he narrowly escaped death by Cesare's hand, but he suffered a fate worse than death when the Borgias claimed him to be impotent. In 'the Godfather', Michael has Carlo Rizzi killed for his betrayal of Santino. When Conny shows up with Merl, yet another useless man, Michael urges her to get rid of him. The way Cesare and Rodrigo steered Lucrezia's life and moved her like a political pawn on the great chessboard of their lives is quite comparable to the way Michael Corleone dominates Conny's life.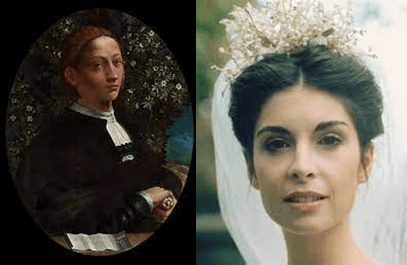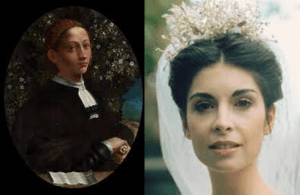 Finally, there is Fredo Corleone, who not only inherited the name of the youngest member of the Borgia family, but also his 'wallflower' personality. Fredo is a useless member of the family who in the end will horribly betray his brother Michael. Also in the Borgia family, Goffredo never plays a major part in the family and will always, with good reason, stand in Cesare's shadow. As long as his older brother Cesare is the absolute power as Italy's' leading condotiere, Goffredo will follow him but never really make a difference in any way. However, when Cesare's downfall is a fact and he is betrayed by El Gran Capitan (Gonzalvo de Cordoba), Goffredo drops his brother like a log and happily goes horse riding and hunting with Gonzalvo de Cordoba while his brother is suffering in his prison in Naples.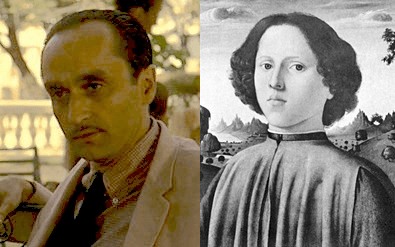 When I delved into newspaper articles and reviews on the Godfather and Mario Puzo's inspiration, it was clear that both were always mentioned in one breath with The Borgia family. Mario Puzo seems to have been infatuated with the Borgias, doing research on them for more than 10 years. All in all, he spent more than 20 years writing about his favorite family. Unfortunately, he died before he finished their story, but his long-time girlfriend Carol Gino finished it for him. 'The Family', however, never became the giant success of 'the Godfather'.
Should you want to read excellent historical narratives on the Borgias, here's a shortlist.
Sara Dunant: Blood and Beauty (I)
Sara Dunant: In the Name of the Family (II)
Dario Fo: the Pope's Daughter
Sabatini: The Banner of the Bull
Helle S. Haasse: The Scarlet City
Lucrezia Borgia: Cecil Saint-Laurent
Many thanks to the following websites for their pictures:
Picture of Micael Corleone: https://screenrant.com/the-godfather-best-michael-corleone-quotes/
Picture of Cesare Borgia: https://da.wikipedia.org/wiki/Cesare_Borgia
Picture of Santino Corleone: https://gifer.com/en/OufH
Picture of Conny: https://godfather.fandom.com/wiki/Connie_Corleone
Picture of Lucrezia Borgia: https://da.wikipedia.org/wiki/Lucrezia_Borgia
Picture of Vito Corleone: https://godfather.fandom.com/wiki/Vito_Corleone
Picture of Rodrigo Borgia: https://en.wikipedia.org/wiki/Pope_Alexander_VI
Picture of Fredo Corleone: https://en.wikipedia.org/wiki/Fredo_Corleone
Picture of Joffre Borgia: ?
Picture of the Woltz Residence: https://godfather.fandom.com/wiki/Woltz_Mansion