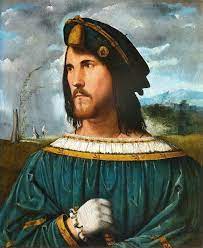 Cesare Borgia, Prince of the Renaissance
Posted by : admin
12 September 2021
On this day in 1475, one of Italy's greatest Renaissance men, Cesare Borgia, was born in Subiaco. From a precocious little boy, he grew up to be extremely intelligent, physically strong, courageous and attractive. Some even said he was Italy's most handsome man. Destined for the cloth, he became a cardinal at 17 but fate would steer his destiny in a different direction. When his younger brother Juan was murdered in 1497, Cesare was obliged to assume the dynastic obligations and dropped his scarlet robes as the first cardinal in history. A series of synchronicities in politics made it possible for his father, Pope Alexander VI, to cut a deal with King Louis XII of France who needed the Pope to annul his wedding with a barren wife. In return, Cesare should receive a French title and an income that could match his former Cardinal status. Cesare married Princess Charlotte d'Albrèt and was knighted Duke of Valence, a name that was peculiarly similar to his former cardinalship of Valencia and people began to nickname him 'Valentino'. The following years, Cesare's army dealt with all the petty tyrants in the Emilia Romagna and turned the region into his Duchy. Together with his father, he planned to create a large buffer state around the Papal States to safeguard Italy from foreign invasions, to protect the Papal States and to create a kingdom where Cesare would wear the crown. He created the first real well-paid, well-equipped and well-fed Italian army since the Roman days, a feat Machiavelli admired him for. In his Duchy he set up a jurisdiction system that was fair for the inhabitants of the Romagna. It would earn him their eternal loyalty.
Cesare came extremely close to achieving his goals, but the Fortuna that had supported him all his life, struck him down in his life's most vulnerable moment. In the summer of 1503, both he and his father suffered from a serious bout of malaria after an al fresco dinner in the hills of Rome. Always having been an extremely robust and healthy man, Pope Alexander VI nevertheless died of the disease, but Cesare struggled for weeks to survive. His strong physique kept him alive. While he was bedridden, however, his entire empire crumbled around him and Cesare would slowly but surely lose everything he had built up. With the votes from the many Spanish cardinals who obeyed Cesare Borgia, Giuliano della Rovere, 'Il papa Terribile' was elected Pope. In return, Il Papa Terribile promised to support Cesare in the recovery of his Duchy. But Giuliano had harboured a lifelong hatred against the Borgias, and despite his promises he moved heaven and earth to strip Cesare of all he had left and shipped him to Spain to be imprisoned first in the Castle of Chinchilla and afterwards in the much more protected Castle of La Mota. Cesare never gave up hope and kept correspondence with the Roman Emperor Maximilian and his son Philip the Handsome who both wanted to hire Cesare's military qualities. The intention was that Cesare should fetch five-year-old Charles V in Flanders and bring him to Spain. But fate decided differently again, and Cesare died in a battle in Viana.
Unfortunately, Cesare has gone down in history as a bloodthirsty, murderous devil. In truth, he was one of the greatest Renaissance men Italy has to offer. According to Baldassare Castiglione, he was the perfect, gallant courtier with 'sprezzatura' galore, a generous patron for famous artists such as Leonardo da Vinci, Michelangelo and Pinturicchio, a gifted general with an incredible soldier's instinct, and the perfect Prince who could have prevented Italy from numerous foreign invasions in the XVI century.
This is the nutshell story of one of Italy's greatest Renaissance men.