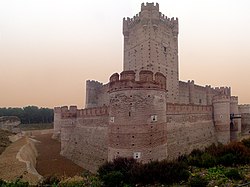 Obscure Borgia-Related Places: (3) The Castles of Chinchilla and La Mota in Spain
Posted by : admin
9 February 2022
Unfortunately, little is known about Cesare Borgia's life in Spain when he was imprisoned in the castles of Chinchilla and La Mota. Still, his life over there was not without adventure nor did he sit quietly in his rooms accepting the harsh treatment of Lady Fortuna.
In September 1504, exactly 62 years after Alonso Borgia, great-uncle of Cesare left  Valencia to travel to Rome where he would one day ascend the papal throne, Cesare arrived at the shores of a country that he likely never had seen before. He spoke the language equally fluently as Italian, and he had always preferred his closest captains and tutors to be Spanish, but of this rugged country in front of him, he knew very little.  From where they disembarked it was only 50 kilometers to the Duchy of Gandia where Juan, his murdered brother should have ruled, and where Cesare's nephews grew up under the watchful eye of Maria Enriquez, his sister-in-law. Slightly to the west, Xativa was located, his father's home town, where the Borgia bull still ruled.  But Cesare would never see his family related regions. From the boat, he was immediately transported to the province of Albacete and imprisoned in the fortress of Chinchilla de Monte-Aragón, an immense rock of a building from where escape was impossible.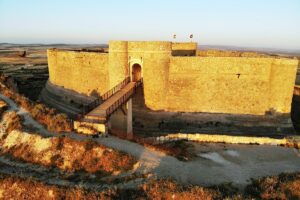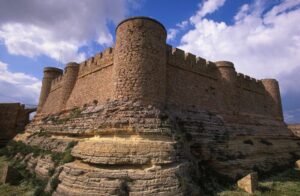 This fortress was built in the fifteenth century by the Marquis of Villena, Don Juan Pacheco. The enormous gate at the entrance is still flanked by two circular towers that can be reached via a bridge that crosses a deep moat. Cesare crossed this bridge. How interesting it would be to know what went on in his mind when he walked through that massive gate into one of Spain's most impenetrable buildings. Did his mind wander off to how he would attack it if he had the chance, where the weak spots of the fortress were located, or did he fall in despair when he entered the inhospitable fortress?  Fact is that Cesare probably inaugurated the building as its first prisoner. Afterwards, the fortress was often used as a prison.
Based on many historical biographies and popular documents on Cesare's time in Spain, it seems almost as if he was given a harsh treatment and that he was not handled with respect. It is true that Isabella, queen of Castile, hated Cesare and blamed him for the murder of his brother. She also resented the fact that Cesare had dropped the cloth and had married into the French royal family, but despite her animosity, Cesare was at all times treated with the respect he deserved as a prince.[1] Requerenz, Cesare's major domo, wrote from Spain that the duke had eight servants and that King Ferdinand was not entirely opposed to releasing Cesare. Ferdinand was well aware of how important Cesare was and he had high esteem for his qualities as a general, but at the same time, he was also afraid of what Cesare might do if he released him. When Isabella died on 26 November 1504, many of those who supported the Duke, hoped that he now would be released. But Cesare was too impatient. The daily walks on the battlements where he admired the falcons hunting and soaring were not enough distraction for this restless soul and he decided it was time to escape. Either Cesare or nothing…
In the beginning of 1505, he made his attempt to escape. Two fantastical tales have survived and are often retold in popular writing. The first one is the story of Cesare wrestling the stout castellan, Gabriel de Guzman, and trying to throw him from the battlements into the moat. The story is very unlikely to have happened because Cesare must have known that murdering Guzman would simply not have led to his freedom. He would still be trapped in the fortress and no doubt punished for murdering the man. The second story involves a friar who visited Cesare regularly and who supposedly was killed by Cesare for his cloak so he was able to escape in it.  Also this story is sheer fantasy. The truth is that Cesare tried to escape the good-old-fashioned way; he tied his sheets together and climbed out of the window. The sheets, unable to carry his weight, tore and Cesare fell deep into the moat, fracturing his shoulder[2].
It was to be expected that Cesare would try to escape having been imprisoned for almost half a year in the seclusion of that cold and damp fortress. But the escape attempt also tells us that Cesare had not lost hope, and that he was not afraid to take high risks; it was clear that he was yearning to be free and live his own life again.
Cesare remained in Chinchilla at least until 5 May 1505 after which he was transferred to the Castle of La Mota, close to Medina del Campo, and famous all over Spain for detaining the most notorious prisoners. The castle, built on a mound, had an exterior crenelated wall which was extremely thick and high. Inside this wall was an even higher and more robust wall with tall and strong towers around a majestic forty-five-meter keep with few windows. Cesare's room was the highest in the keep and its thick bolted door was flanked by two soldiers who guarded him day and night. An escape was out of the question unless Cesare was able to grow wings. It seemed his situation had gone from bad to worse.
In the meantime, King Ferdinand was quarrelling with Philip the Handsome, his son-in-law, about who should be allowed to 'use' the famous prisoner's qualities. Ferdinand wanted Cesare to lead an army to Naples and put the disobedient Gran Capitàn, Gonzalvo de Cordoba in place.  (An opportunity to take revenge for Gonzalvo's betrayal would have been a gift from heaven for Cesare.)  Philip the Handsome, on the other hand, wanted Cesare to travel to Flanders and bring his son, the future emperor Charles V, to Spain. In the end, Ferdinand decided to lead his army to Naples himself and Philip died of a disease. It seems Lady Fortuna was not done yet striking Cesare with bad luck. And so he decided to take his fate in his own hands and he organized an escape from the 40 meters high tower of La Mota.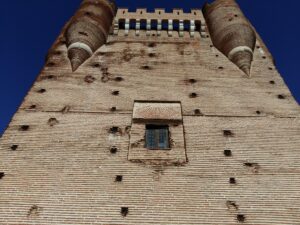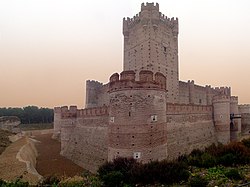 During the night of 25 October 1506, Cesare managed the impossible and escaped from the Castle of La Mota with the help of the Count of Benavente, a Borgia supporter. Via a priest who visited Cesare regularly, a rope had been smuggled inside and had been tied to the iron bars of the window. First, Cesare's servant, Juanito, was lowered, but as he climbed down, he discovered that the rope was too short and he plunged down, breaking several bones. The noise had alarmed the guards who hurried into Cesare's room. Cesare had already lowered himself as well, but was still hanging quite high above the moat when the guards cut the rope that was tied to the iron bars.  His fall was particularly brutal. Unconscious, he was picked up by his supporters and put on a horse. Somehow, they managed to hold Cesare in the saddle as they raced off as fast as possible to Benavente's lordship of Villalon. Cesare had been saved, but there had been no time to rescue the poor servant who was killed on the spot[3].
For at least an entire month, Cesare recovered from his fractures and wounds in Benavente's castle. He was treated by the count himself who happened to be a medical doctor[4]. At the end of November 1506, Cesare began his exhausting journey to Pamplona, the capital of Navarre where he arrived on 3 December 1506 como el diablo[5] (like the devil).
Next time: Senigallia!
A huge thank you to the following websites:
https://cultura.castillalamancha.es/patrimonio/catalogo-patrimonio-cultural/castillo-de-chinchilla-de-montearagon 
https://www.spainheritagenetwork.com/en/castillos/fortified-castle-of-chinchilla-de-montearagon 
The article's profile picture is borrowed from https://en.wikipedia.org/wiki/Castle_of_La_Mota
The picture of the Castle of Chinchilla with the drawbridge is borrowed from: https://commons.wikimedia.org/wiki/File:Castillo_Chinchilla_amanecer.jpg
The picture from Chinchilla Castle from a distance is borrowed from: https://www.pinterest.co.kr/pin/456271005972798816/?send=true
The picture of Cesare Borgia's window in the tower of The Castle of la Mota is my own (SK)
[1] Sacerdote, Cesare Borgia: La sua vita, la sua famiglia, i suoi tempi.
[2] Bradford, Cesare Borgia: His Life and Times.
[3] Sacerdote, Cesare Borgia: La sua vita, la sua famiglia, i suoi tempi; Bradford, Cesare Borgia: His Life and Times; Yriarte, Cesare Borgia.
[4] Antonioli, Cesare Borgia: Il Principe in maschera nera.
[5] Yriarte, César Borgia: sa vie – sa captivité – sa mort (1).