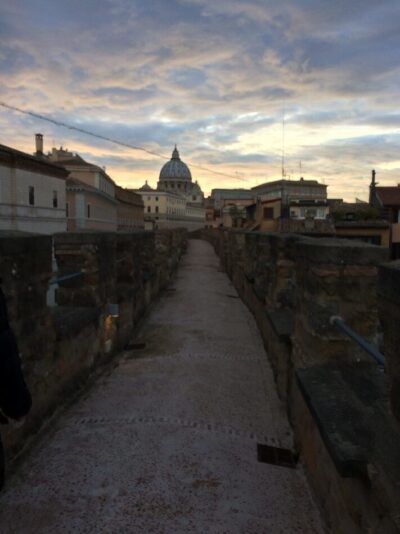 'The Passetto' The secret corridor from the Vatican to the Castel' Sant Angelo
Posted by : admin
29 August 2021
When you walk on the Via della Conciliazione towards St. Peter's square you cannot but notice an enormous long and crenelated wall on your right-hand side that looks like a battlement, very similar to the ones you find around old Italian cities. This wall stretches all the way from the Castel Sant' Angelo (Hadrian's Tomb) to the colonnade of Bernini and then 'disappears' into the Vatican walls. About 7 to 9 meters high, it hides one of Rome's most unbelievable places: the Passetto or the Corridor of the Borgo. Inside this wall, a secret covered walkway runs all the way from the inside of the Vatican to the Castel Sant'Angelo and a small iron gate marks the border between the Vatican and Italy.
It was Pope Nicholas III who had the first eight-hundred-meter walkway created above the wall in the thirteenth century. About two centuries later, Pope Alexander VI financed further changes; an upper footway was built above the existing one, which was turned into a gallery. Also, the crenellation that runs along the upper part of the wall was added at this stage. The coat of arms of Alexander VI can be seen twice along the inner side of the wall: above the Porta Viridaria and above a surviving tower located midway. Alexander VI would soon need the secret passage to save his life and that of his loved ones. When King Charles VIII of France reached Rome in 1494, Alexander used the covered passage to seek shelter from the French army which had camped just below the walls of the Vatican. While he literally ran to safety to Hadrian's tomb, he could hear the French soldiers shouting through the narrow windows of the walls.
Alexander VI was not the last person to use the Passetto. In October 1503, also his son, Cesare Borgia, his mother Vanozza, the two Borgia princes Giovanni and Rodrigo and two of Cesare's own illegitimate children sought refuge in the Castel Sant' Angelo. And in 1527, Pope Clement VII used the Passetto when Charles V, the Holy Roman Emperor looted and vandalized the Eternal City for more than a year.
Even today, the Passetto is not always open to the public. The corridor floor is fragile and may not be able to support mass tourism. Once in a while though, during very specific time slots, the Passetto is opened for small group of maximum 10 people. The walk 'above the Borgo' is an experience of a lifetime and offers an amazing view of Rome below and of Bernini's colonnade. Who knows where inside the Vatican this secret passage continues and where it ends. In the Borgia Tower? Perhaps in the Sistine Chapel?